Our Practice
Dr Nancy Younan
BSc(Med) MBBS(Hons) MPH FRANZCO
Cataract and all aspects of general Ophthalmology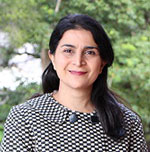 Dr Nancy Younan
Dr. Nancy Younan is an ophthalmic surgeon who completed her medical degree at the University of New South Wales graduating with Honours. Her ophthalmic training was completed at the Prince of Wales Hospital, Sydney,and she became a Fellow of the Royal Australian and New Zealand College of Ophthalmologists in 2003.
Dr. Younan gained further experience as Clinical Fellow at the Royal Devon and Exeter Hospital, Exeter, United Kingdom.
Dr Younan has worked in Tasmania for a number of years, where she held a post as a Consultant Ophthalmic Surgeon at the North West Regional Hospital.
She has been awarded a Masters of Public Health from University of New South Wales and has had publications on various subjectsof ophthalmology in peer reviewed journals.
Dr. Younan performs cataract surgery and treats general ophthalmic conditions. She speaks fluent Arabic.