Our Practice
Dr James (Son) Chau-Vo
MBBS Syd (Hons), FRANZCO
Cataract, Pterygium and Glaucoma surgeon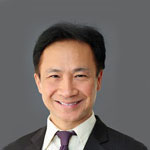 Dr James (Son) Chau-Vo
Dr Chau-Vo graduated from the Faculty of Medicine at the University of Sydney in 1992 with Honors. He trained in ophthalmology at Sydney Eye Hospital and obtained his specialist qualification in 1999.
Dr Chau-Vo specializes in cataract surgery and refractive lens surgery. Having been in in private practice for over fifteen years, he is an extremely experiences cataract surgeon having performed over 12,000 cases in Australia and overseas on charity eye camp trips. He has extensive experiences in difficult and complex cataract cases and often receives tertiary referral from other eye specialists when there had been complications with the initial surgery.
He is the first surgeon in Australia who has performed glued intra ocular lens implant with excellent visual outcome for patients with prior problemed cataract surgery where conventional lens cannot be implanted.
Dr Chau-Vo customises the treatment options to each individual circumstance, as no two individuals are alike to provide the best refractive outcome. He offers the choice of premium intra-ocular lens implant including Toric and multifocal IOL, and will discuss the advantages and disadvantages of each technique.
By working in Sydney' south western area with a large South East Asian Ethnic population, he has become extremely experienced in performing pterygium surgery, particular difficult cases whereby initial surgery performed elsewhere has failed. He has performed over 2000 pterygium surgery using the most advance technique to provide the best cosmetic outcome. He was one of the first surgeon in Australia to use Fibrin glue ( in 2009) to adhere conjunctiva graft instead of suture which provides near pain free pterygium surgery.
He also specializes in treatment of glaucoma and medical retina conditions such as diabetic retinopathy, age related macular degeneration and retina vascular diseases. He has been performing intravitreal (eye injection) since 2006 with excellent and safe visual outcome.
Dr Chau-Vo has a keen Academic interest. He lectures extensively to other specialist, hospital bases eye specialist in training , medical students and is involved in optometrist teaching. He regularly presents at meetings and Grand round lectures.
Dr Chau-Vo is also passionate about charity work. He is one of the founding member of Vietnam Vision Project, a charity organization that performs free cataract surgery for the poor in Vietnam and Cambodia. He has travelled extensively to South East Asia and performed many free operations for the poor with excellent visual outcome. He is also actively involved in charity fund raising activities and local community works.
Credentials:
MBBS (Hons) RANZCO
Senior surgeon and Director of SYDWEST Eye Specialists.
Director of South Western Eyecare.
Supervisor of eye specialists training.
Senior conjoint lecturer at University of NSW.
Department head of ophthalmology, Bankstown hospital (2008 to 2013)
Sub specialty interests:
Complex Cataract , glaucoma surgery and Medical retina specialist.
Surgeries performed:
Premium cataract surgery with Toric, Multifocal and extend depth of focus Intra-ocular lens. ( over 12,000 cases)
Complex cataract surgery with iris fixate IOL, glued IOL.
Sutureless pterygium surgery with fibrin glue ( over 3,000 cases)
Glaucoma a surgery – trabeculectomy and MIGS surgery including istent, Cypass.
Eyelid surgery – ectropion repair, entropion repair and blepharoplasty.
Intravitreal injection using Avastin, Aflbercept (Eyelea), Ranibizumab (Lucentis), Triescence and Ozurdex implant.
Glaucoma laser surgery: Selective Laser Trabeculectomy (SLT), Peripheral iridotomy (PI)
Retina laser for retina tear, diabetic retinopathy.
Botox injection for hemifacial spasm, essential blepharospasm.